Are you looking for that special gift for a loved one? Something that says "I know you and I thought this will brighten your day"? It might sound a little 'every day', perhaps even a little too practical for romance but coffee has become one of the most popular 'go-to gift' themes of 2020. Think about it- it's not simply just a consumable drink but an occasion. Something to enjoy quietly with your favourite podcast or whilst catching up with a friend or the special loved one that bought it for you in the first place. A gift that makes occasions special.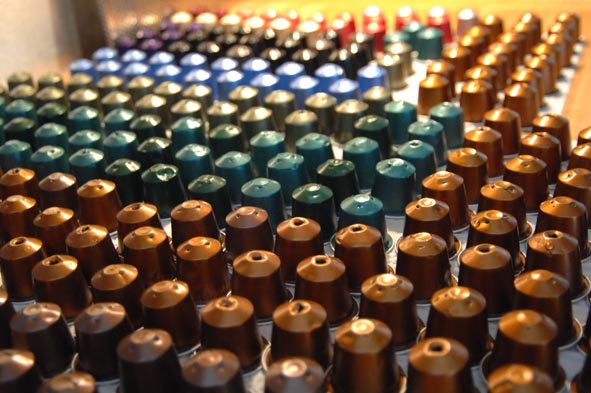 So when considering this, what better way of making such occasions than having an Nespresso coffee maker? A self-contained, low maintenance coffee machine purpose built for perfectly blended coffee by Nestle. With 10 flavours and a simple operating interaction of 'place pod and press', it's convenience is matched by the consistent shop quality taste to your daily cup!
There's something really satisfying about having a neat stack of colour coded coffee pods ready at your fingertips and knowing that in a matter of seconds the perfect cup is ready for you to enjoy. But with fair consideration of the environmental impact Nespresso have a refill scheme that means each spent pod is returned and refilled. As a gift of love, it doesn't have to cost the earth- in land fill! 
Something for the weekend? Along with 10 different flavours and decaffeinated options, there's also the option to add alcohol to your blends to enjoy those nights in with a loved one. Considering how Fondue became more than eating melted cheese on pieces of bread, Nespresso nights can breathe new life into quality drinks and function as a party piece, no need for an automatic espresso maker here, simply load a pod and hey presto.
Online coffee cocktail clubs have also added an additional social dimension to the product. Cappuccino martinis have become something of a 'covid cocktail' speciality. Since lock down, we are finding new ways to enjoy our weekend or work drinks. With the increased need to build as many social interactions as possible, albeit online, the shared community of coffee drinkers over social media has built up over the last few testing months. It's a nice way of creating culture around a shared pleasure of drinking coffee.
As a gift, Nespresso pods work on various levels. A product of convenience, they are consistently reliable and easy to use, with a plug and play aspect that takes out a lot of the faff of measuring coffee and cleaning up messes of spent coffee granules afterwards. But the added dimension of spicing up the drinking and introducing a social element has really made Nespresso Pods more than a drink. it's a reason to have to conversation with someone. So when considering the everyday practicality of a Nespresso Pod machine, you are offering an occasion to spend connecting with someone or oneself. As a gift, that's a thoughtful one.